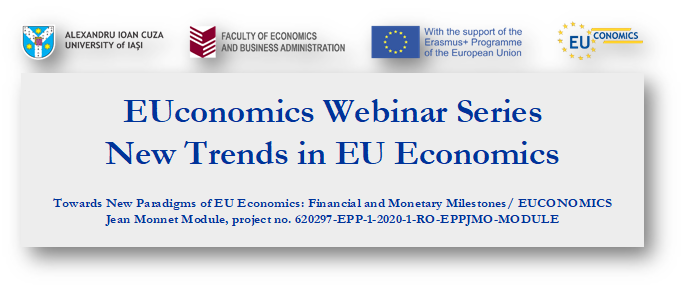 We are excited to announce the 1st edition of the webinar series  "New Trends in EU Economics" organised within the Jean Monnet Module "Towards New Paradigms of EU Economics: Financial and Monetary Milestones". The series is designed to create an effective environment for sharing expertise and discussing on currently hot topics in EU economics with international experts from foreign (academic or non-academic) institutions.
WEBINAR INFORMATION:
Monday 29 March 2021, 3:00–5:00 pm Central European Time (CET)
Online on Microsoft Teams (access link)
TOPIC: The Coming Challenges for Europe in a Globalized World
PRESENTER: Professor PhD MANUEL PORTO
Prof. Manuel Porto holds a PhD in Legal Economic Sciences from the Law School of the University of Coimbra and M.Phil in Economics from the University of Oxford. He was President of the Central Region Commission, President of the National Planning Council, Member of the European Parliament, President of the National Council for Education and World President of the European Community Studies Associations. He participated in research projects of the Council of Europe, of the European Commission, of the OECD and of the World Bank. He is currently President of AREP (Portuguese Association for European Studies), SRS Consultant, Vice Secretary General of  the Academy of Sciences of Lisbon and Professor of the Universities of Coimbra (where he is President of the European Studies Association, being director of the journal Temas de Integração)  and Lusíada ( where he is coordinator of CEJEA, Center of Economic, Legal and Environmental Studies). He teaches also in Macau, in the University ( where he is member of the Advisory Committee of the University) and in the Institute of European Studies. He has a great  number of publications, articles and books, in areas as  public finances, development and international relations and integration, among them recent editions of Economia: Um Texto Introdutório (2014, reprinted in 2021) and Teoria da Integração e Políticas da União Europeia (2017, with previous editions also in English and in Chinese).