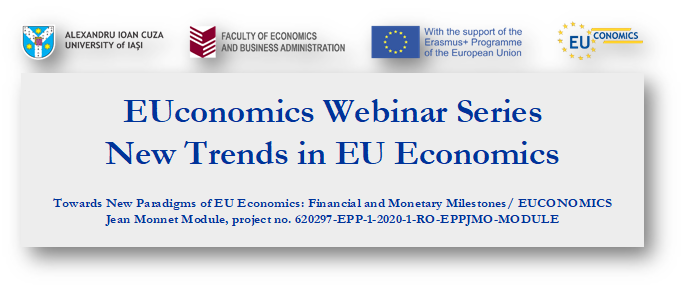 We are pleased to announce the 4th edition of the webinar series "New Trends in EU Economics" organized within the Jean Monnet Module "Towards New Paradigms of EU Economics: Financial and Monetary Milestones". The series is designed to create an effective environment for sharing expertise and discussing on currently hot topics in EU economics with international experts from foreign (academic or non-academic) institutions.
WEBINAR INFORMATION:
Thursday 4 May 2023, starting 10.00 a.m. local time
Online on Teams (click here) and Room C3, building C, Faculty of Economics and Business Administration, UAIC
TOPIC: Corporate income tax – practical and legal issues
PRESENTER:
Ana NECHIFOR – Tax manager PwC Romania
About our speaker:
Ana NECHIFOR is the Manager of the corporate income tax team, with 8 years of experience in tax consulting. She has extensive experience in service areas such as direct tax consultancy, domestic and international tax issues; currently she is mainly involved in the retail & consumer sector, offering assistance on tax consultancy projects such as: tax reviews, tax inspections, tax reporting, and day-to-day consulting. She is also an authorized tax consultant, member of the Romanian Chamber of Tax Consultants. an experienced policy economist with a focus on monetary and fiscal policy.