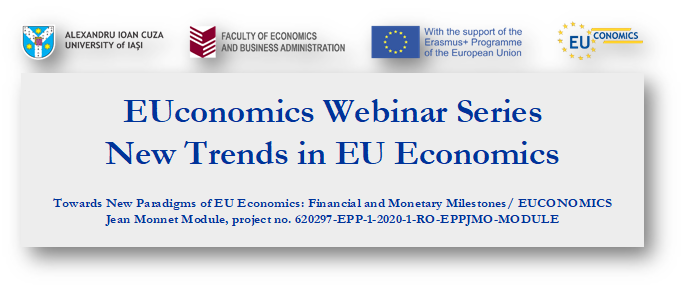 We are pleased to announce the 3rd edition of the webinar series "New Trends in EU Economics" organized within the Jean Monnet Module "Towards New Paradigms of EU Economics: Financial and Monetary Milestones". The series is designed to create an effective environment for sharing expertise and discussing on currently hot topics in EU economics with international experts from foreign (academic or non-academic) institutions.
WEBINAR INFORMATION:
Friday 31 March 2023, starting 10.00 a.m. Central European Time (CET) (11.00 a.m. local time)
Online on Teams (click here) and Room B525, building B, Faculty of Economics and Business Administration, UAIC
TOPIC: Main trends in central banking
PRESENTERS:
Maroje LANG – Chief Advisor, Croatian National Bank and Deputy President, Fiscal Policy Commission
Anastasios PAPPAS – Head of Research Department, Hellenic Fiscal Council
About our speakers:
Maroje LANG is an experienced policy economist with a focus on monetary and fiscal policy. He spent most of his career at Croatian National Bank where he advanced from an intern to analyst, director, and chief adviser. He was educated in Zagreb, LSE, and MIT, and participated in numerous professional and executive trainings. He served as an Assistant Minister of Finance of the Republic of Croatia in charge of the Directorate for Macroeconomic Analysis, Economy, Financial System, European Union and International Financial Relations. He was a member of the EU Economic and Financial Committee (EFC), National Authorizing Officer (NAO) responsible for the Pre-accession EU Funds. Since 2018, he has been a member and Deputy President of the Croatian Fiscal Policy Commission. In his current role, he is coordinating economic research at the CNB and working on various projects, including climate-related issues for the central banks.
Anastasios PAPPAS has received a Bachelor's degree in Business Administration from the University of the Aegean (with a scholarship obtained from the "State Scholarship Foundation"- "IKY"), an MSc in International Banking and Finance from the University of Southampton (UK), and a Ph.D. degree in Macroeconomics from the University of the Aegean. He has worked as an economist in the private and public sectors (consulting, banking, and local government). He has taught various courses (Macroeconomics, Economic Policy, Microeconomics, Political Economy, Business Economics, etc.) at the University of Aegean and at the National and Kapodistrian University of Athens. His research interests cover topics concerning Fiscal Macroeconomic and Monetary Policy, Economic Forecasting, Financial Crises, and Capital Mobility.