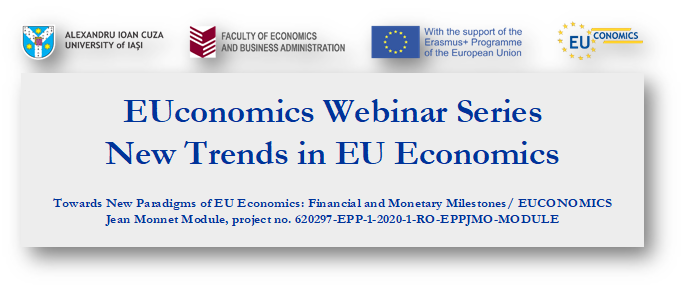 We are pleased to announce the 2nd edition of the webinar series  "New Trends in EU Economics" organized within the Jean Monnet Module "Towards New Paradigms of EU Economics: Financial and Monetary Milestones". The series is designed to create an effective environment for sharing expertise and discussing on currently hot topics in EU economics with international experts from foreign (academic or non-academic) institutions.
WEBINAR INFORMATION:
Monday 18 April 2022, 5:00–7:00 pm Central European Time (CET) (6:00–8:00 pm local time)
Online on Blackboard (click here)
TOPIC: Competition Policy in the European Union. Some Remarks on Taxation and Financial Sectors
PRESENTER: Professor PhD LUIS ANTONIO PALMA MARTOS
Professor 
dr. 

Luis 

Antonio 

PALMA 

MARTOS is member of the University of Seville, Spain, from 1984. He teaches various courses on topics such as: Cultural Economics, Economic Theory, Public Finance, Microeconomics, Macroeconomics, History of Economic Thoughts, Industrial Economics, Agrarian Economics, Price Theory, etc. He held the positions of Vice Dean of International Relations of the Faculty of Economic and Business Sciences of the University of Seville, Secretary of the Institute of Regional Development and Director of the Department of Economics and Economic History of the University of Seville.
He directed the Economic Analysis and Political Economy Research Group since its creation in 2000, he co-directs the Chair of Competition Policy at the University of Seville. He co-directed the Seminar on "Economic Analysis of Competition Defense Policy" as well as the Doctoral Programme in Economic, Business and Social Sciences. Since 2015 he is member in the Andalucia Competition Council, the resolution body of the Andalusian competition authority.
He published as author or co-author over 95 research papers in relevant journals in the field and presented more than 65 scientific papers at congresses and international conferences.